Gavin Newsom buys ads for gun control in another major GOP state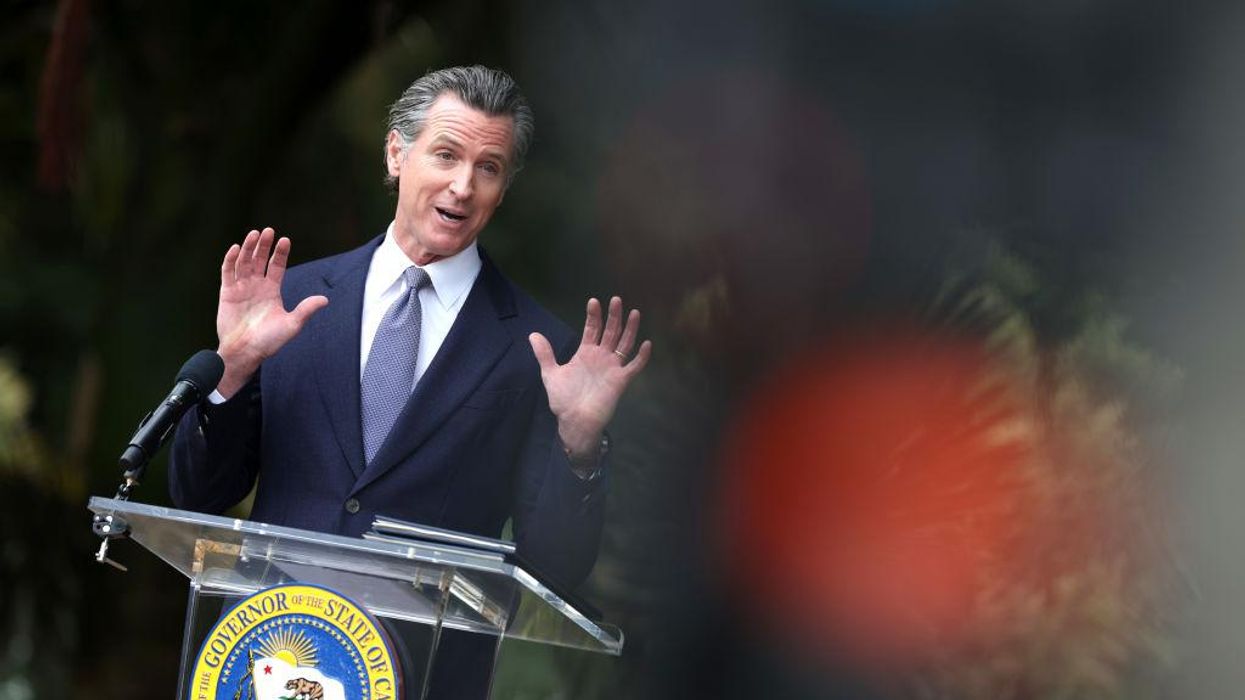 California Gov. Gavin Newsom (D) has purchased full-page ads in Texas newspapers boasting about a new gun law he will sign that is directly modeled after a fetal heartbeat law signed by Gov. Greg Abbott (R).
The ad tout's the gun control law as "California's answer to Texas' perverse bill," and it will run in the Austin American-Statesman, Houston Chronicle, and El Paso Times, according to NBC News.
"If Texas can ban abortion and endanger lives, California can ban deadly weapons of war and save lives. If Governor Abbott truly wants to protect the right to life, we urge him to follow California's lead," the ad states.
\u201chttps://t.co/dvyPy6SH38\u201d

— Gavin Newsom (@Gavin Newsom) 1658501299
It comes off the heels of a $105,000 ad purchase Newsom made in Florida TV markets, capturing national headlines and fueling speculation about the possibility the 54-year-old governor will mount a primary challenge to President Joe Biden, 79, for the 2024 Democratic presidential nomination.
Newsom traveled to Washington D.C. this month to visit the White House while Biden was abroad, and while he was there, he blasted Florida Gov. Ron DeSantis (R) and Texas for an alleged "assault on freedom" being led by GOP governors. He also accused Democrats of losing focus by neglecting to challenge Republican policy victories at the state and local level.
In picking fights with Florida and Texas, two of the largest GOP-controlled states, Newsom is setting himself up as a foil to Republican governors and potentially as someone "who fights" in a future Democratic presidential primary, although he strongly denies holding any ambitions for the White House.
"In no way, shape or form this has anything to do with that. Period. Full stop. Add six or seven exclamation points," he told NBC News.

The gun control bill Newsom will sign Friday mimics how Texas is enforcing the state's abortion law. It will allow private citizens to file lawsuits against people who make or sell illegal "assault weapons" or so-called ghost guns, adopting what the Texas law's critics have called a "bounty" mechanism.
Texas' heartbeat law, enacted before the Supreme Court overturned Roe v. Wade, was written so that it would survive expected legal challenges on constitutional grounds. Now that the Supreme Court has ruled there is no constitutional right to an abortion, states have more power to restrict abortion access — but the same is not true for guns, which remain explicitly protected by the Second Amendment.
Some critics of the Texas law have also opposed California's new gun law. The American Civil Liberties Union says both laws encourage "vigilantism" and has expressed concerns that red and blue states could "escalate an 'arms race' ... by setting up bounty-hunting schemes on politically sensitive issues."
But Newsom dismissed those concerns and told NBC News that Democrats need to start playing hardball. "I think Democrats have been playing a little soft," he said.
He said the gun law was "fair play" given the Texas abortion law, and that it was written in such a way to provoke the Supreme Court to "reconcile their decision" on permitting the Texas law to take effect.
"There's no principled way for them to strike down this law and uphold Texas," Newsom asserted.