Portland judge tosses riot charges leveled against two conservative activists: 'I am somewhat bewildered that the state has driven this case to this point'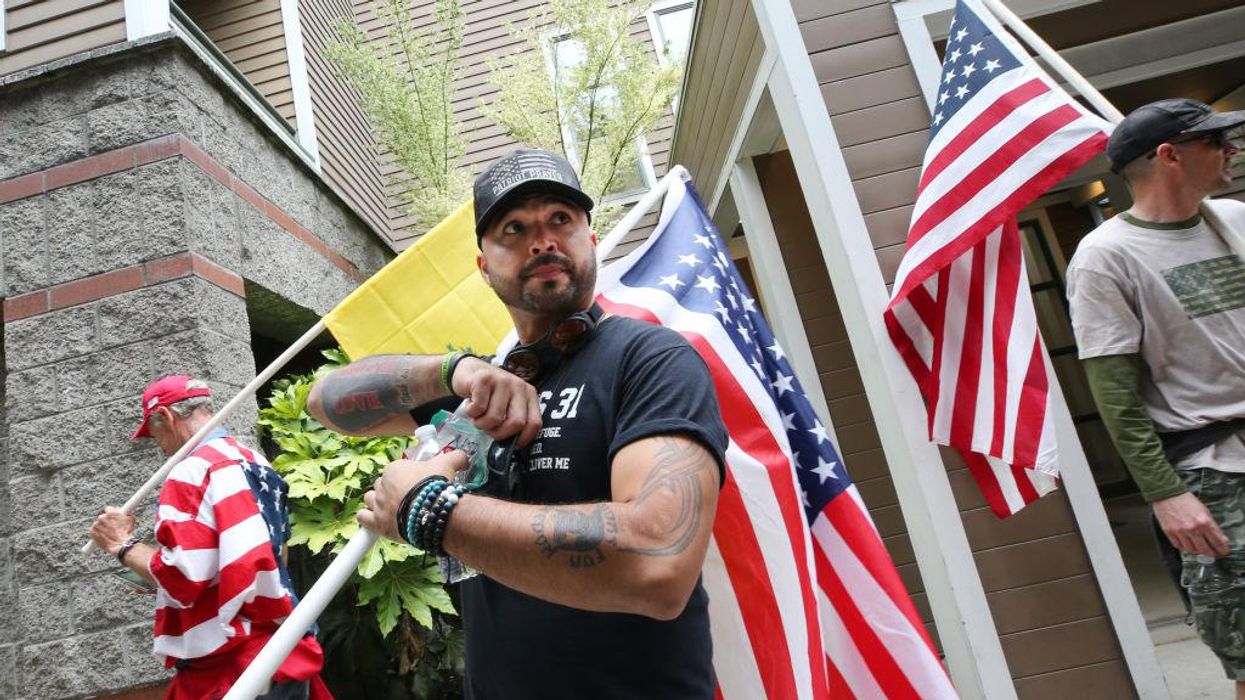 Two outspoken conservative activists in Portland, Oregon, are walking free, now that a judge has dismissed the riot charges leveled against them by the local district attorney.
Joey Gibson, 38, the founder of Patriot Prayer, and Russell Schultz, 52, two men notably associated with the conservative counter-protesting scene in one of America's most left-leaning cities, will no longer face rioting charges stemming from an incident outside Cider Rules, a now-defunct Portland bar that was reportedly once a regular hangout for members of Antifa.
On May 1, 2019, known as "May Day" to many communists and socialists, Cider Rules and Rose City Antifa hosted a joint May Day celebration, and Gibson, Schultz, and other conservatives arrived outside the pub for reasons unknown. Shortly after their arrival, violence broke out between the two groups. There were several reported injuries, and one woman was knocked unconscious.
Police ultimately arrested Gibson, Schultz, and four of their associates. Three of the six immediately struck plea deals with prosecutors, and one of them, Ian Kramer, is currently serving almost two years for striking a woman in the head.
However, Gibson, Schultz, and MacKenzie Lewis all rolled the dice and pled not guilty to the charges issued against them by Mike Schmidt, a district attorney whom Antifa reporter Andy Ngo describes as a "radical leftist."
The gamble has paid off for Gibson and Schultz. On Tuesday morning, Multnomah County Circuit judge Benjamin Souede dropped all charges against the two men, citing insufficient evidence.
"I am somewhat bewildered that the state has driven this case to this point," Souede said.
"The state is trying to convict Mr. Schultz for being present at an incident that violence occurred, and they cannot do so," he added.
Souede acknowledged that Gibson and Schultz likely instigated tensions with their presence and their language that day. However, the judge then reminded prosecutors that words alone were insufficient for rioting charges. Under Oregon law, defendants must also have engaged in "tumultuous and violent conduct."
"If the defendant could be convicted of riot in this case, there would be no protection for protesters in Oregon," Souede said. "If being there and using your body to take up space is sufficient, then any protester runs the risk of arrest if it turns out that tumult ensues."
So Gibson and Schultz are free men, but Lewis, 32, remains on trial because there is video of him allegedly shoving a female and ripping off her mask.
Back in 2019, police claimed they were also earnestly searching for persons of interest from the pro-Antifa side, though no leftists were ever arrested. The Cider Rules establishment closed in November 2019, six months after the May Day incident.