Arkansas Gov. Asa Hutchinson blasts Trump, reveals 2024 plans, and defends state's abortion ban in interview
---
July 1, 2022

/

The Blaze

/

News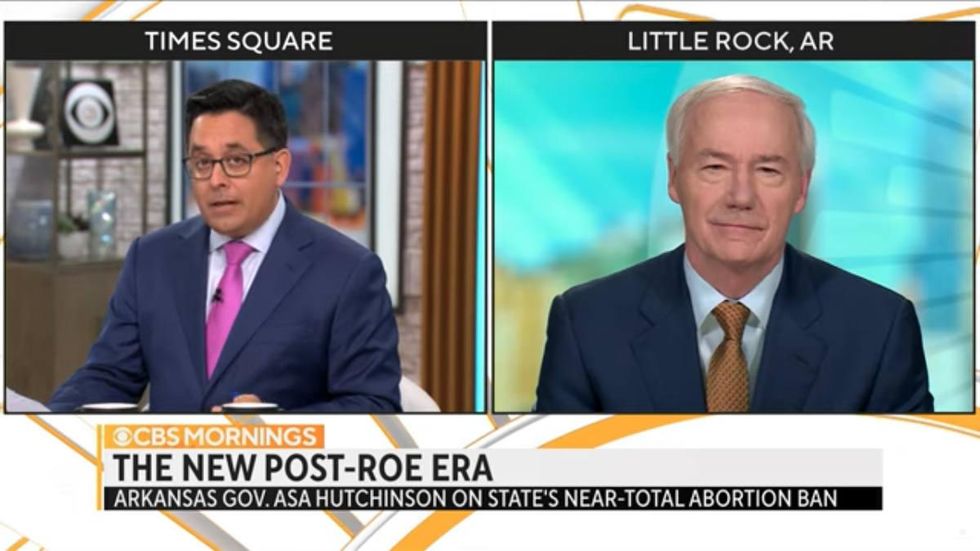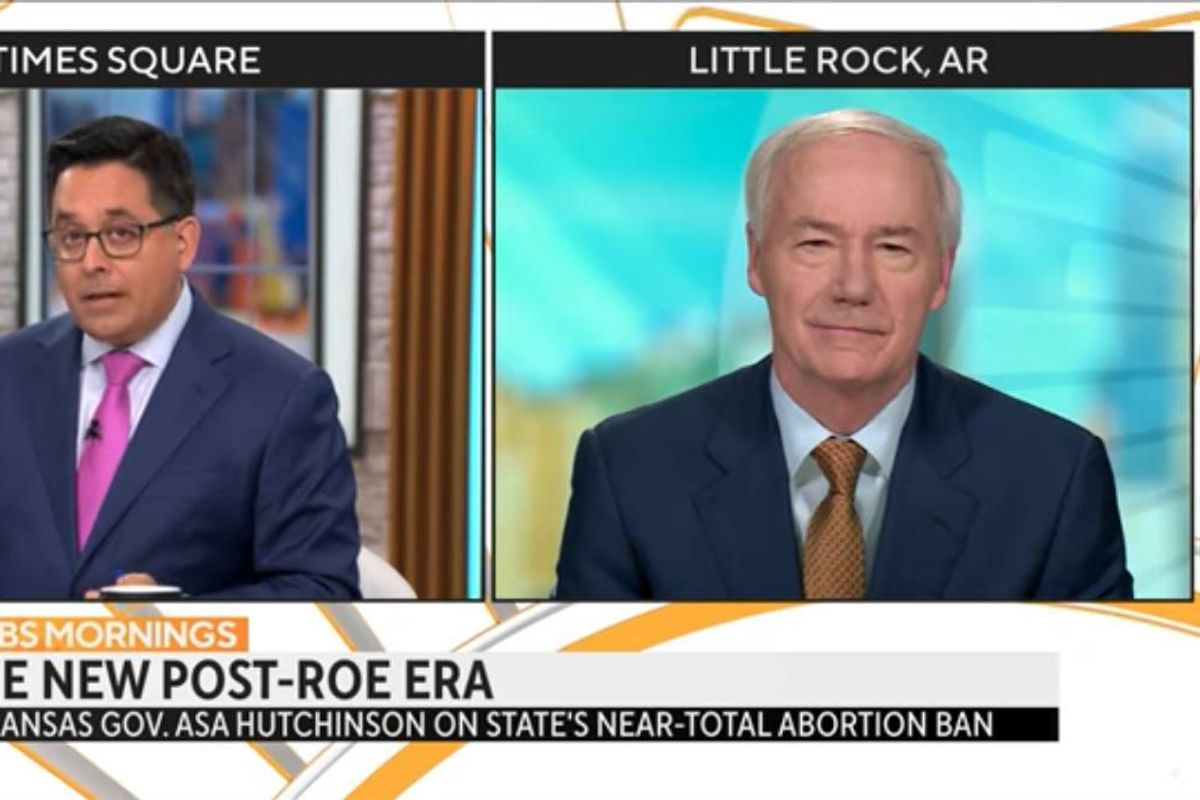 Arkansas Republican Gov. Asa Hutchinson said Friday that he is "laying the foundation" for a 2024 presidential campaign, asserting that former President Donald Trump has "disqualified himself" from returning to the White House by his conduct leading up to and after the Jan. 6, 2021, Capitol riot.
While he has not committed to running for president and says he is waiting until after the 2022 midterm elections to make a final decision, Hutchinson offered blistering criticism of Trump during an interview on CBS News and indicated he would be willing to challenge the former president for the 2024 Republican presidential nomination.
"Obviously, there's talk about 2024, and I had to make it clear that Trump has disqualified himself, in my judgement, from his actions from Jan. 6 and leading up to that," Hutchinson told "CBS Mornings" on Friday. "And so we have to go in a different direction for our country, for my party. I want to be a voice for commonsense conservatism."
"I haven't made a commitment to it, I haven't made a decision on it, but I'm laying the foundation for that if that is something that's going to be helpful to our country," he said.
Hutchinson joined the program for a wide-ranging interview that covered the demise of Roe v. Wade, Arkansas' trigger law that nearly banned abortions in the state, and the latest testimony from the House Jan. 6 committee.
On abortion, the Republican governor described actions lawmakers will take now that all abortions are illegal in Arkansas, excepting medical emergencies when the life of the mother is endangered. The state's trigger law went into effect last week after the Supreme Court overturned Roe v. Wade in its decision for Dobbs v. Jackson Women's Health Organization.
Hutchinson said that Arkansas accepted Medicaid expansion to provide "health coverage for the working poor" and that in addition to $1 million for pregnancy centers, the state will increase funding for mental health and other services.
Noting that there were about 3,000 abortions in Arkansas last year, the governor said "a significant number of those will be reduced" thanks to the statewide abortion ban.
"Some of those moms will put their child up for adoption," said Hutchinson, "so we're going to have to increase our adoption services. Others will go out of state, which I think will be a small minority, but there'll be many that will carry that child to term and to keep that child. And so we want to make sure that we have the wraparound services for that mom, both during the pregnancy, but also afterwards. So we're looking at as to how we can beef that up."
Asked about an effort from some GOP state lawmakers to prevent women from traveling out of state to seek abortions, Hutchinson said he would not support such legislation, calling it "a violation of interstate commerce."
Turning to the Jan. 6 committee hearings, CBS host Nate Burleson asked if Hutchinson agreed with Wyoming Rep. Liz Cheney's assertion that Trump is "a domestic threat we have never seen before."
Hutchinson agreed that Trump's attempts to challenge the 2020 presidential election results were "a threat to our democracy."
"That's not the behavior we want to see in a responsible president," he said.
"I would not be supporting him for 2024," Hutchinson added. "He acted irresponsibly during that time. He was a risk to the nation, absolutely."
Watch:
Arkansas Gov. Asa Hutchinson on state's near-total abortion ban youtu.be